Reports & Fact Sheets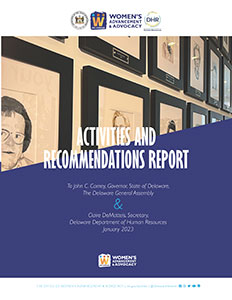 We are honored to share the Office of Women's Advancement and Advocacy's (OWAA) report on the Office's activities during the 151st General Assembly, as well as the activities of the Delaware Commission for Women, Delaware Women's Workforce Council, and the Delaware Women's Hall of Fame Committee. Additionally, this report includes policy recommendations for consideration during the 152nd General Assembly. The Office's goal is simple - to make Delaware the best place for women to work, live, and thrive. To achieve that, the office has worked hard to offer programming that is educational and informative, leverage social media to educate and engage the public, and play an integral role in the creation of lasting policy change. Read more about OWAA's activities and recommendations.
2023
Title IX Athletics in Delaware Schools (February 2023)
This white paper outlines the proposed plan for how OWAA will work with the Delaware Department of Education to support schools, school districts, and the Delaware Interscholastic Athletic Association (DIAA) in their efforts to assure that Delaware girls continue to benefit from the promise of equity under Title IX.