Register for Events
Title IX and Athletics: What You Need to Know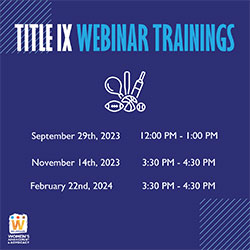 Delaware women and girls have come a long way since the enactment of Title IX – the federal civil rights law that prohibits sex discrimination in education. To continue our year-long celebration the 50th anniversary of Title IX, the Office of Women's Advancement and Advocacy is providing free webinar trainings focusing on Title IX and athletics. The following topics will be covered:
What is Title IX?
Why is Title IX Important?
What are the requirements of Title IX?
Examples of Common Title IX violations
Myths and Facts about Tile IX
What can schools, parents and advocates do to support Title IX compliance.
These free webinar trainings are appropriate for parents, advocates, coaches, and school personnel. If your school or community organization would like to schedule a training, please contact us at delawarewomen@delaware.gov. Register Today!