2023 Inductees
Delaware Women's Hall of Fame
Patricia Dailey Lewis
Patricia Dailey Lewis is the Chief Executive Officer of the Beau Biden Foundation for the Protection of Children. Patty joined the Foundation in January 2016, as the first executive director, upon retiring from the Department of Justice after a 30-year career.
At the Beau Biden Foundation for the Protection of Children, Patty has built upon her decades of expertise to lead a nationally renowned organization that works to prevent child abuse by educating adults and children, developing the next generation of child welfare professionals, and strengthening child protection laws throughout this country. In this role, Patty has trained thousands of professionals, parents, and families on topics ranging from identifying the signs of abuse and neglect to responding to disclosures of abuse to combating the commercial sexual exploitation of children (human trafficking) to protecting children online. Patty is frequently called upon by national news organizations to give interviews as an expert on child abuse prevention and protection. Too often organizations designed for the benefit of young people have, instead, caused lifelong damage by allowing predators to work for these institutions. Recognizing that abuse can happen in any setting for children, Patty has created a nationally renowned program, called the Shield of Protection, that seeks to ensure that educational institutions and youth serving organizations have achieved the best practices in child protection policies and procedures. These are just a few of the successful initiatives Patty has championed.
A practicing attorney, Patty was previously Deputy Attorney General with the Delaware Department of Justice and, until her retirement, served as the Director of the Family Division. Patty worked in the field of family and child advocacy, domestic violence, the protection of vulnerable adults and the elderly, and consumer protection. She has practiced in all Delaware courts, including the Supreme Court of Delaware and the United States District Court for the District of Delaware. She also is admitted to the Supreme Court of the United States.
It's impossible to know how many children Patty has saved from becoming victims of physical and sexual abuse. What is certain is that due to Patty's expertise and dedication, young lives throughout the world are being spared from horrific abuse, unimaginable violence and even death.
For nearly forty years, Patty has been at the forefront of taking on some of the nation's worst examples of child abuse. She has zealously advocated for the rights of victims and has never wavered confronting the root causes of violence. This experience has given Patty a deep expertise in advocating for abuse prevention and child protection. The programs she has developed on best practices in the prevention of child abuse and neglect are deployed routinely in communities throughout the United States and the world. From small groups like local nonprofits to major global organizations such as Special Olympics International, Patty has helped ensure schools and youth-serving organizations have the best policies, procedures, and programming in place to help protect children from all forms of child abuse and neglect.
Trusted with the most complex cases at the Department of Justice, Patty's career is also noteworthy because of the hundreds of attorneys she has inspired to serve the public. It's not uncommon to run into someone in the legal profession who will tell you how Patty changed their career path. A student seeking to fulfill a requirement at Delaware Law School will sign up to take Patty's Family Law course. Thinking this class will not have much relevance to them once they leave law school for a career in corporate law, they are often changed. Instead, they find themselves switching gears to focus on child welfare law or plan to serve as a guardian ad litem in foster care cases. The same can be said for attorneys she mentored at the Delaware Department of Justice who saw firsthand Patty's advocacy in the courtroom on numerous matters, including the criminal prosecution of domestic violence, consumer protection litigation, and civil cases involving child abuse and neglect.
Patty's legacy at the Department of Justice extends beyond the people she inspired. Knowing that it was important to improve the response to child abuse throughout the state, Patty even required that prosecutors be trained on best practices for responding to and reporting child abuse. Delaware also has some of the nation's strongest laws protecting children thanks to Patty's efforts to collaborate with legislators on important initiatives ranging from the mandatory reporting of child abuse to red flag laws to reduce gun violence. To this day, victims and their families who have been assisted by Patty routinely contact her for support or guidance as do the attorneys and child protection professionals she has inspired.
Patty has served as a Law Professor at Delaware Law School for thirty-five years and sits on the Board of Directors of the Children's Advocacy Center of Delaware and the Victims Compensation Commission. She serves as a commissioner of the Child Protection Accountability Commission and the Child and Maternal Health Commission. She speaks at numerous national and international conferences on child abuse, abuse of the vulnerable, child death, domestic violence, and organizational practices to enhance child safety and well-being.
Patty is married to Lawrence W. Lewis, Esquire. They have a daughter and son-in-law, Kathleen Dailey and Ryan Patino.
---
Bonnie Meszaros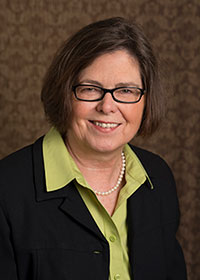 Over a career spanning 50 years, Dr. Bonnie Meszaros has championed, coordinated and delivered professional learning programs for teachers of economics and personal finance, ensuring that Delaware educators know how to teach this critical subject matter in grades K-12.
She is assistant professor of economics at the University of Delaware (UD) and associate director for the UD Center for Economics Education and Entrepreneurship (CEEE).
Throughout her five-decade-long career as an educator, Meszaros has effectively outfitted teachers in grades K-12 so that they could bring accessible, engaging, and meaningful economics, personal finance and entrepreneurship education into their classrooms. Carlos Asarta, director of the UD CEEE, said, "When it comes to curriculum development, Bonnie is a leader in the field." Her work has had state, national and international impact. She continues to publish research and pedagogical articles used by other economic educators and policy makers to influence educational practices and policy.
As a testament to her influence and legacy, state and national organizations have created annual awards in her honor. In 2019, UD CEEE created the Meszaros Economic Educator of the Year Award, recognizing a Delaware teacher demonstrating a sustained history of contribution to economic education. In 2023, the National Association of Economic Educators created the Meszaros Curriculum Leadership Award, presented to an educator especially successful in developing K-12 economic curricular resources.
Meszaros generously shares her time and expertise mentoring countless educators throughout the state, the nation and abroad. She holds an undergraduate degree from Ohio Wesleyan University and both masters and Ph. D degrees from UD. She lives with husband, Craig, in Wilmington; daughter, Morgan, resides in DE with husband James and their two sons.
---
Paulette Sullivan Moore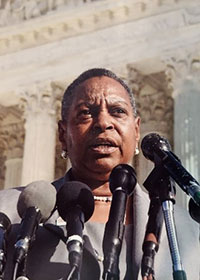 Paulette Sullivan Moore is Delaware's first African American female attorney. Following her 1977 admission to the Delaware Bar, Ms. Moore achieved another "first" in 1989 when she was elected New Castle County Recorder of Deeds – thus becoming the first African American person elected to a NCC county-wide position.
Ms. Moore has served within the State of Delaware on a variety of levels including, prosecutor, private practice attorney, Assistant Solicitor for the City of Wilmington, Counsel and Parliamentarian for New Castle County Council, Managing Attorney and Deputy Director at Community Legal Aid Society, as well as New Castle County Recorder of Deeds. She also worked for ten years as the Director of Public Policy at the Delaware Coalition Against Domestic Violence (DCADV), where she engaged directly with legislators, law enforcement, civil and criminal defense attorneys, elected officials and so many others to affect change in Delaware's laws and policies in order to best serve Delaware victims and survivors of domestic violence.
Paulette Sullivan Moore opened the doors for so many people in Delaware, especially Black women in the law. Her determination to follow through on her pursuit of law school and join the Delaware Bar at a time where no other women in the field looked like her deserves recognition all its own. As importantly, however, she would note that her eagerness to use whatever privilege she acquired to advance the needs of those who were not at the table – or even in the building – has been a vital component of her life of public work and advocacy. So, whether raising the critical "but" while serving as a member of her church community or on the ACLU's Board of Directors; or volunteering as a pair of extra hands as a Baylor Women's Prison tennis "instructor" or an Attorney Guardian Ad Litem for teenage girls, Paulette constantly had her antennae raised for opportunities to positively impact the lives of others.
Domestic Violence Advocates will tell you, however, that although many have benefitted from the influence of Ms. Moore, none have benefitted more than survivors of domestic violence. As Policy Director for DCADV, she helped shape important legislation and policy initiatives. She repeatedly used her voice to ensure that those in power heard from those usually left unheard, particularly those most marginalized due to race, economic status, and gender. Her Delaware-focused domestic violence advocacy led her to the National Network to End domestic Violence (NNEDV), where she brought that same voice to federal legislators, administrators, and critical stakeholders. Her work, as NNEDV's Vice President of Public Policy, led to improvements in the 2013 Reauthorization of VAWA that helped expand survivor services, initiate new policies, and strengthen funding for state and territory coalitions and the 2300 programs throughout the United States that provide direct services to those victimized by domestic violence. Ms. Moore also acted as Amici in US Supreme Court cases, US v Castleman and Elonis v US. She has appeared as a guest on C-Span, served as a speaker and panelist for both undergraduate colleges/universities and law schools, and participated with other advocates and think tanks to bring an intersectional and multidisciplinary lens to improving our local and national responses to and prevention of domestic violence.
In her retirement, Ms. Moore continues to serve. She has been an organizer and leader with DCADV's Women of Color Task Force, has reviewed legislation for its impact on women, children, domestic violence victims and members of marginalized communities, and will soon begin training as a reading coach for elementary school children.
---
Leslie Newman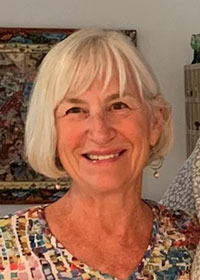 Leslie Newman, the daughter of Matthew and Gertrude Karp, was born in West Hempstead, New York. She grew up attending local public schools while enjoying her nearby extended family, the beauty of Long Island, and numerous childhood friends, several of whom she remains very close to, to this day. Upon graduating high school, she attended SUNY Buffalo, studying to be a reading specialist and completing a Masters. She went on to teach in New York, Philadelphia, and Connecticut.
In 1980, Leslie and her husband moved to Wilmington, and not long after, the first of her two sons was born. A devoted mom, as her children grew older, Leslie steadily became more involved in the community, working mostly in a variety of roles with the Jewish Federation of Delaware and its agencies.
After volunteering with The Family and Children's Coalition, Leslie was asked to join the Children's Bureau and lead its fundraising om 1992. Leslie was a very successful fundraiser, excelling at donor and community relations, event management, and enhancing the profile of the agency. In 2007, she was selected by the board to serve as CEO of what was by the Children & Families First, a position she would hold until her retirement in January 2020.
Under Leslie's leadership, CFFDE continually grew and expanded in its role as a statewide social services agency, with a comprehensive array of services for children and families that included family foster care, adoption, child welfare prevention programming, home visiting services for pregnant and parenting women, family therapy, school-based mental health counseling, and community schools. The success and growth of CFFDE was rooted in numerous partnerships and productive relationships with state agencies, school districts, public health providers, the courts, and state and local government. Leslie was committed that her organization, its board of directors, and its staff, be driven by innovative and collaborative work. CFFDE developed into a nationally recognized, award-winning organization, and benefitted from achieving the highest ratings of nationally accredited nonprofit child and family serving organizations.
Leslie has been a true champion for supporting children and families and building a community where all Delawareans can thrive. A true believer in evidence-informed interventions, Leslie spearheaded the introduction of many nationally recognized, highly effective programs in Delaware. In the 90's she travelled to school districts across the state to advocate for School Based Wellness Centers. These innovative programs provided access to children's health services within the schools. To overcome resistance, with the support of the Division of Public Health, Leslie carefully built partnerships among parents, school administrators, and school board members. Most of these programs remain in existence today, continuing to meet the health and wellness needs of Delaware adolescents.
In many respects an extension of school-based health, Leslie championed bringing the Nurse-Family Partnership to Delaware as CEO of CFFDE. The evidence-based program that couples a licensed nurse with expectant parents at high risk for poor birth outcomes related to social determinants of health, is widely recognized for dramatically improved outcomes for infants and their parents. To properly replicate this program in Delaware, Leslie convinced the philanthropic community to join with state and federal government to assemble the necessary funding to pilot and assess the program. The positive early childhood outcomes realized from NFP throughout its implementation over more than a decade has led its continued expansion. Under Leslie's leadership, CFFDE brought other model, evidence-based programs to Delaware, including Functional Family Therapy. Designed to reduce the entries of teens into foster care because of intense parent-child conflict, FFT intervenes with a manualized family counseling model that gives caregivers and youth important skills that improve the safety of their homes and the functioning of their family, so they might remain intact.
Appreciated for her problem-solving skills and her commitment to collaboration, Leslie was frequently called upon by state leadership to serve on numerous workgroups and committees. There are too many to list, but they include the state's Child Death Review Committee, Delaware Early Childhood Council, and Home Visiting Community Advisory Board.
Leslie's contributions to the Delaware community extend far beyond her responsibilities of CFFDE. From 1996 to 1998, she served as President of the Jewish Federation of Delaware. In 2021, she returned to a statewide leadership role, agreeing to serve as co-chair of a steering committee that worked for 18 months with Brandies University on a comprehensive study of the Jewish population across Delaware and the Brandywine Valley. The results of the study will assist with strategic planning by the Federation, synagogues, and service organizations. Since retirement, she has also been an active member of the Seaside Jewish Community and co-chairs the Social Justice Committee.
For more than 15 years, Leslie has chaired the board of the Milton and Hattie Kutz Foundation, a fund managed by the Jewish Fund for the Future, established through the generosity of former DuPont Executive, Milton Kutz. The board annually distributes funds to a wide variety of community organizations. In 2020, Leslie joined the Board of Delaware Public Media, the state's only National Public Radio Station. And most recently, Leslie has begun working with the Lewes Public Library around strategic planning.
Leslie's extensive knowledge of the network of services and community organizations throughout Delaware, combined with the respect of many community leaders, have served Leslie and the people of Delaware well. Delaware is more than simply a home for Leslie. It is the place where over five decades, she not only raised a family, but also engaged in numerous opportunities to develop and use her skills and apply her passion for the benefit of the state's most vulnerable children and families, and for the benefit of the broader community.
In retirement, Leslie loves all aspects of being a doting "nanny" to her four young grandchildren who live with their parents in nearby Maryland and DC. She lives with her husband Bill in Lewes; in a home they have worked on together to remodel extensively. Leslie and Bill enjoy travel, volunteering, classes through OSHER, and most of all, having time to spend with family and friends.
---
Lynn Snyder-Mackler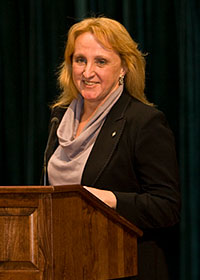 Dr. Lynn Snyder-Mackler is a world renowned physical therapist and sports medicine researcher, and a driving force behind the University of Delaware's Physical Therapy graduate program growing to the #1 ranked program in the country. Whether it's at the Olympics or with Hall of Fame athletes, or sports teams around the world, Lynn's renown has shone a light on Delaware.
Lynn was raised in Connecticut and was the first in her family to attend college when admitted to the Johns Hopkins University. She played lacrosse and other sports and also began her work in sports medicine as a student athletic trainer, developing a passion for the intersection of science and athletics – one that would spawn a groundbreaking career.
Lynn received degrees from the University of Pennsylvania, where she met a fellow PT student and her future husband: Scott Mackler. She began her career as a clinical physical therapist, but due to her persistent curiosity and interest in finding answers, she quickly found her passion in clinical research. They moved with their young sons to Boston, where Lynn was a professor and completed her doctorate at Boston University studying a pathology that would drive her entire career, anterior cruciate ligament (ACL) injury, while Scott was a medical resident. In 1989 they moved their family to Newark so Lynn could join UD's Physical Therapy Department.
During more than 30 years at the University of Delaware, Lynn and her colleagues grew the Physical Therapy Department to the top-ranked program in the country. This leap in global recognition for UDPT was due in part to Lynn's hard work in growing the exemplary UDPT clinic and success in securing millions of dollars in federal research funding as she become the premier prevention and rehabilitation expert for ACL injuries.
On a national and global scale, Lynn's pioneering research has changed the way we think about ACL injury prevention and rehabilitation. In some of her most important work, she identified that not all who tear ACLs needed surgery to continue their sports activity. Through progressive rehabilitation, these "copers" can stabilize themselves after an ACL injury without undergoing surgery. Since identifying these types of patients, Lynn has focused her work on identifying what distinguishes copers and non-copers soon after their injuries in order to help prevent further ACL injury, delay the need for immediate surgery, accelerate the recovery time post-injury, and make it less likely that the individuals will re-injure themselves.
Lynn became one of the most highly sought-after physical therapists in the world – attending to Hall of famers and Olympians in the US and abroad – which greatly contributed to UDPT's, and Delaware's, profile. As the world's expert in ACL rehabilitation, Dr. Snyder-Mackler has also been called on numerous times to help some of the world's best athletes accelerate their recoveries. In Boston, she helped rehabilitate NBA players. She was asked to be the Chief Athletic Trainer for Beach Volleyball at the 1996 Centennial Olympic Games in Atlanta, GA. She helped rehabilitate and counsel countless Philadelphia-area professional and amateur athletes. For years, she spent significant time in Italy working with the premier sports rehabilitation clinic. Athletes continued to rely on her counsel well after rehabilitation completed. This past year, as a reflection of her accomplishments and the fact that she is still at the pinnacle of her profession, the NFL asked her to be one of the experts on the NFL Scientific Advisory Committee.
At the same time she was working with international stars, Dr. Snyder-Mackler also dedicated a large amount of rime to treating and rehabilitating high school and college athletes in Delaware. Athletes, coaches, and their families knew if you had a knee injury, you needed to go see Lynn.
Since moving to Delaware in 1989, Lynn as immersed herself in the local community by volunteering her time and effort to help improve the lives of those around her. In an intersection of life with public service, she became a tireless advocate to families of patients with ALS as Scott fought the disease for 15 years until his death in 2013. She continues to work with families facing the challenges of ACL/MND around the world. Lynn has sat on the board of numerous organizations including the Delaware Pro-Choice Medical Fund, University of Delaware Hillel, and the Governor's Council on Lifestyles and Fitness. At the University of Delaware, she was a longstanding member of the Faculty Board on Athletics, which she chaired as NCAA Faculty Athletic Representative for fifteen years. She continues to serve as a member of the Sports Medicine Advisory Committee of the DIAA, a committee that was chaired by her husband, Dr. Michael Axe, a renowned orthopedic surgeon with whom she has written 70 scientific articles on the ACL and youth sports injury and prevention.
Dr. Snyder-Mackler has earned countless awards and grants in her field, bringing more prestige and research funding to the University of Delaware. In 2015, the American Physical Therapy Association bestowed upon her the highest honor in the profession: the Mary McMillan Lecture Award. In 2009, UD conferred its top honor, the Francis Alison Award, to Lynn – making only the third time ever that a woman received the award. And in 2008, after being continuously funded by the National Institutes of Health (NIH) for over a decade, she was conferred a prestigious MERIT (Method to Extend Research in Time) Award. The MERIT award was designed to provide stable, long-term funding support to outstanding, experienced investigators, whose productivity is distinctly superior, and who are deemed highly likely to continue to perform their research activities in an outstanding manner.