2019 Inductees
Delaware Women's Hall of Fame
Tania Vitcusky Culley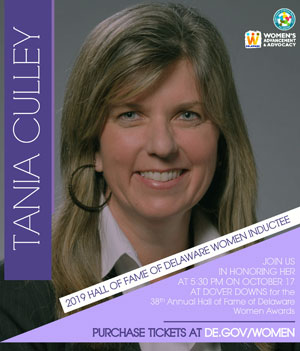 Tania Vitcusky Culley became Delaware's first Child Advocate in February of 2000, and has led Delaware's Office of the Child Advocate since that time. As Child Advocate, she manages an office of 39 employees and contractors, including eleven attorneys who primarily represent children in Family Court proceedings. Her office supervises a pool of over 250 volunteer attorneys, 200 CASAs, the CASA Program, the Office of the Investigation Coordinator, as well as provides legislative, policy and educational advocacy and training to Delaware's child protection community. Since its inception, the Office of the Child Advocate has represented more than 6,000 of Delaware's most vulnerable children.
Tania is Executive Director of the Child Protection Accountability Commission, Delaware's Citizen Review Panel, which also reviews all Delaware child abuse deaths and near deaths, and is a Commissioner on Delaware's Child Death Review Commission. She serves on many committees and task forces focusing on child abuse, court improvement, youth aging out of foster care and juvenile justice. Over the years, Tania has drafted and lobbied for many statutory changes to Delaware laws on behalf of children, in the areas of guardianship, termination of parental rights, adoption, education, custody, visitation, child death and near death, civil child witness and multi-disciplinary coordination. Tania has also conducted many trainings and professional development forums relating to children involved in legal proceedings, and her office serves as a consistent resource for attorneys appointed to represent children in Family Court.
A Delaware native, Tania is a graduate of Christiana High School, the University of Delaware and Widener University School of Law, and is a Certified Child Welfare Law Specialist through the National Association of Counsel for Children. Tania is the proud mother of two daughters.
---
Drew Fennell
Drewry N. Fennell is the Chief Officer for Strategic Communication and Development for Christiana Care Health System, Delaware's largest private employer. Prior to joining Christiana Care in 2017, Drew was Chief of Staff and Senior Policy Advisor to Governor Jack Markell of Delaware. Drew served as the Executive Director of the Criminal Justice Council of Delaware, from June 2010 to February 2013, providing criminal justice policy research and planning for the State of Delaware. Before that, she was Executive Director of the American Civil Liberties Union of Delaware for nearly ten years. As an active citizen in the community, Drew serves on the Board of Directors of The Grand Opera House and Playhouse, Delaware Public Media, Delaware Center for Justice, and Friends of Hockessin Colored School #107, an historic school building that was the subject of Brown v. Board of Education. She was appointed by Governor Jack Markell to the Judicial Nominating Commission and served until her appointment as Executive Director of the Criminal Justice Council. She formerly served as a Commissioner of the Delaware Sentencing Accountability Commission under appointment by the President Pro Tempore of the Delaware State Senate, and was on the boards of the Music School of Delaware and the Brandywine Pastoral Institute. She also served on the vestry of Trinity Episcopal Parish.
---
Superior Court Judge Jan Jurden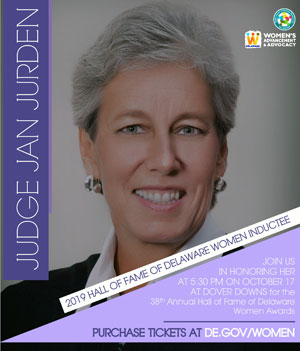 The Honorable Jan R. Jurden, a Delaware native, was appointed to the Superior Court of Delaware in May 2001, and elevated to President Judge of the Superior Court on January 13, 2015. Her current term ends January 13, 2027. After serving three years in the United States Army overseas, Judge Jurden received her B.A. summa cum laude from Muhlenberg College in 1985, and her J.D. from the Dickinson School of Law (now the Dickinson School of Law of the Pennsylvania State University) in 1988. Judge Jurden practiced law as an Associate with the law firm of Young, Conaway, Stargatt and Taylor from 1988 to 1995, concentrating on corporate, commercial and personal injury litigation, and became a Partner in 1996. She continued her law practice at Young, Conaway until May 2001. Since its inception in 2008, Judge Jurden has overseen Superior Court's Mental Health Court. She oversaw the Conflict Attorney Program, providing representation for indigent defendants from 2006 to 2008. She previously served as Criminal Administrative Judge. She is a member of the Court's Complex Commercial Litigation Division. Judge Jurden is a member of the American Bar and the Delaware State Bar Associations and the National Association of Women Judges. She is also a member of the Advisory Committee on the Delaware Rules of Evidence and the Advisory Committee on Professionalism. She is a former member of the Richard S. Rodney Inn of Court.
---
Maria Matos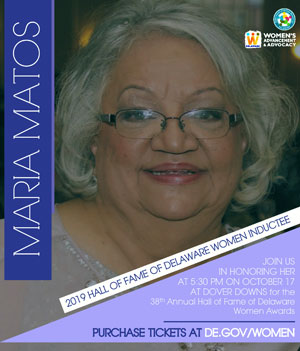 Maria Matos is the President and CEO of the Latin American Community Center (LACC) in Wilmington. She has more than 35 years of nonprofit experience, working for the Chesapeake Bay Girl Scouts Council before coming to the LACC. Maria studied elementary education at Delaware State College, Dover, and human services and family counseling at Delaware Technical Community College and The Institute of Family Counseling in Philadelphia, Pennsylvania. She also earned a nonprofit management certificate from the University of Delaware. Maria currently sits on the board of directors for Academia Antonia Alonso Charter School and Wells Fargo Regional Foundation. Her past appointments include president of the board of directors for Wilmington's Hispanic Festival and Parade, board member for the 21st Century Delaware Children's Fund, and member of the United Way of Delaware's Hispanic Leadership Task Force. UnidosUS has elected Maria as their representative to the National Affiliate Council. She was previously appointed by former Governor Jack Markell to serve on the Delaware Hispanic Commission and the Delaware Every Student Succeeds Act (ESSA) Advisory Committee.
---
The Late Blanche Williams Stubbs
Blanche Williams Stubbs was born in Wisconsin, on February 29, 1872. Blanche entered Howard University in Washington, D.C., graduating in 1892. Upon graduation, she settled in Wilmington, Delaware, to teach at The Howard School, which was by the 1890s, black-run and the only four-year high school for African-Americans in Delaware. In 1912, she joined with other African-American Wilmingtonians to found the Garrett Settlement House, named for the city's famed abolitionist leader, Thomas Garrett. She was an early and consistent supporter of the Wilmington Branch of the NAACP, chartered in 1915. On June 3, 1920, one day after the Delaware State Legislature had refused to ratify the Nineteenth Amendment, she scheduled a public lecture at the settlement house on "The Equality of Men and Women." During the 1920s, Blanche was active in Republican Party politics, both nationally and locally, and served as state chairman of the black-led National Republican Women's Auxiliary Committee. As NAACP branch Vice-President, she worked with other leaders in the organization to mitigate the routine humiliations of segregation. She continued her work as director of the Garrett Settlement until it closed in 1949. Blanche died on March 11, 1952. She was eulogized as one of the most prominent women in Wilmington's African-American community. For her work and contributions to the civic life of Wilmington, Blanche was honored by the Alumni Association at Howard University in June 1951.
---
Marie Swajeski
Marie Swajeski became founder of the Children's Repertory Theatre, now known as the Delaware Children's Theatre (DCT) in 1973. She has dedicated her life to children and the theatre. Marie was a true pioneer in live theater for children. In its first decade, DCT presented more than 700 performances to critical acclaim for more than 90,000 children. In the early years, the DCT offered free summer workshops for underprivileged children. DCT's outreach group, The Rainbow Players, often performs at Ronald McDonald House, River Fest (benefiting The Boys and Girls Club), Ministry of Caring, and nursing homes. It is through Marie's hard work and perseverance that the lives of hundreds of thousands of children have been changed. She has helped shape and enrich the lives of thousands on the stage of the theater, and in the hearts of those who have been lucky enough to call her a friend.